COLLEGAMENTI
Guida alla musica elettronica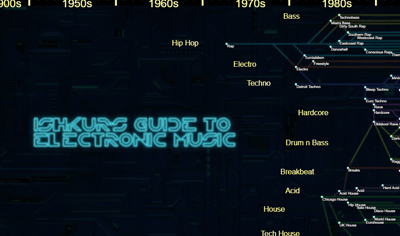 Ishkur' guide to electronic music è un sito che contiene una pazzesca mappa sonora di tutti i filoni della musica elettronica, dalla Glitch alla Italo Dance, centinaia di generi catalogati in 7 grandi categorie, con migliaia di frammenti sonori dei brani più significativi di ogni genere, da Tubular Bells di Mike Oldfield a I Feel Love di Donna Summer.
Biosonologia

La Biosonologia sfrutta il potere vibrazionale delle frequenze sonore per accedere ai livelli superiori della nostra coscienza e per sostenere la capacità di mantenere in equilibrio il nostro organismo nella sua interezza. La nostra mente e il nostro corpo rappresentano una complessa entità fatta di materia organica e di flussi di energia in perenne vibrazione.
Itai Weissman EWI Conversations Channel

Itai Weissman is an Israeli saxophone and EWI-player based in Amsterdam. Itai is considered one of the best EWI-players in Europe and regularly teaches at Conservatorium van Amsterdam and Prins Claus in Groningen. In his Youtube channel, Itai talks to some key figures of the EWI world, who have been there since the beginning of it's creation, developing their own vision on the instrument, enriching the possibilities of sound, language and improvisation. The purpose of this channel is to give you one address where you can sit back and let yourself be inspired by conversations, tutorials, live performances and more.
<![if !supportFootnotes]>
<![endif]>