SUONOPURO HARMONICA

Virtual Harmonicas
(Full version of NI Kontakt 5.8.1 or higher required)
Introduction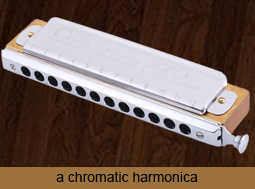 The Harmonica by Suonopuro is a very expressive and realistic virtual instrument emulating different kinds of harmonica: the chromatic, with or without resonance; the tremolo, which has two reeds per note, with one slightly sharp and the other slightly flat; and the octave harmonica.
The harmonica, also known as a French harp or mouth organ, is a free reed wind instrument used worldwide in many musical genres, notably in blues, American folk music, classical music, jazz, country, and rock.
The Suonopuro Harmonica, using the most advanced technological solutions, allows emulating the original instrument perfectly, even in legato, staccato and in the tonal variations that are obtained at different dynamic.
The Suonopuro Harmonica also has a wide range of effects, which transform its sound: distortion, chorus, wha-wha, etc. Moreover, its numerous functions make it very versatile and playable live. It can be used both in monophonic mode, for greater realism, and in polyphonic mode. It can also perform up to two parallel secondary voices simultaneously, so you can emulate the octave harmonica, for example.
It does not require complicated settings or intricate ways of playing: just play normally on your MIDI instrument to get legato and staccato, crescendo and diminuendo, piano and forte, vibrato, glissando, etc.
The Suonopuro Harmonica is designed to get the best, in terms of expression and control, from any kind of MIDI instrument:
• Electronic Wind Instruments (Akai EWI, Yamaha WX5, Casio Zanzithophone, Roland Ae10g, Morrison Digital Trumpet, etc.);
• MIDI strings (Cantini MIDI violin, Zeta MIDI violin, etc.);
• MIDI converters, like the Sonuus i2M;
• MIDI keyboards (NI Komplete control, M-Audio Oxygen, etc.); • MIDI controllers (TEC breath controller, MIDI expression pedal, Yamaha BC3, etc.).
Audio and video demos
Lucignolo (Lorezo Carpi)


Ciro Pusateri, internationally renowned saxophonist, plays "Isn't she lovely" on his Yamaha YDS150 with the Suonopuro Harmonica.

Francesco Nolasco, plays Tenderly on his EWI with the Suonopuro Harmonica.
Little Blues Impro played by me.
Interface Image

Features
•
Perfect Crossfade
: transition from piano to forte and vice versa on
five levels
without hear overlapping notes.
•
Editable Dynamic Controller and Range
.
•
Two monophonic modes
with
real time automatic recognizing of legato and staccato
: by dynamic controller and by keys.
•
Play on release mode
: when you release a note, the software plays the previous note still pressed.
•
Configurable legato time and real time controlled portamento
.
•
Four round robin staccato attacks
with
multiple and gradual gradients
from soft to marcato.
•
Two parallel voices
at configurable intervals, as used by Michael Brecker.
•
Polyphonic mode
for polyphonic instruments and
sustain
or
hold 1st note
modes for monophonic instruments.
•
Bending technique
.
•
Editable sound color
by
tremolo
,
fullness
and
resonance
functions.
•
Automatic vibrato
and
flutter-tonguing
both configurable and controllable live.
•
Chorus
,
Compressor
,
Three-band equalizer
,
Convolution reverb
, easy to use
Distortion
and
Delay
effects.
•
Keyswitches
that can be disabled;
live options activator
.
• More than
4 and a half octaves of range
.
•
Splitter by Suonopuro
, to split and layer many sounds across your keyboard or your MIDI instrument.
Requirments
• A COMPUTER: Windows or Mac or a Maschine+ by Native Instruments.
• NI KONTAKT 5.8.1 or higher FULL retail version. It is NOT compatible with Kontakt Player. You can open and run the Suonopuro Harmonica in Kontakt player just for 15 minutes. After that the demo period of the player times out and you have to re-start and reload the library.
• A MIDI CONTROLLER: an Electronic Wind Instrument or a Keyboard or any kind of MIDI Instrument.
Here are some examples:

Keyboard players can use a MIDI controller like these:

It is also possible to use a common MIDI keyboard without any MIDI controller.
How to obtain "SUONOPURO HARMONICA"
Suonopuro Harmonica and The Drone Player are parts of a private collection that I'm going to give to everyone who supports my site www.suonopuro.net with a donation of at least € 60,00.
To use them you need a FULL retail version of NI Kontakt 5.8.1 or higher.
Instructions:
Make a donation of at least 60,00 euros using Paypal (payment is automatically converted to your desired currency):


Send an E-MAIL with your name, your e-mail and details of the payment made, to:

Within a few days you will receive an e-mail notification, containing the download link and the instructions.
If you want a different method of payment, or are having problems with the Paypal link, you can write an email to the address above.
How to use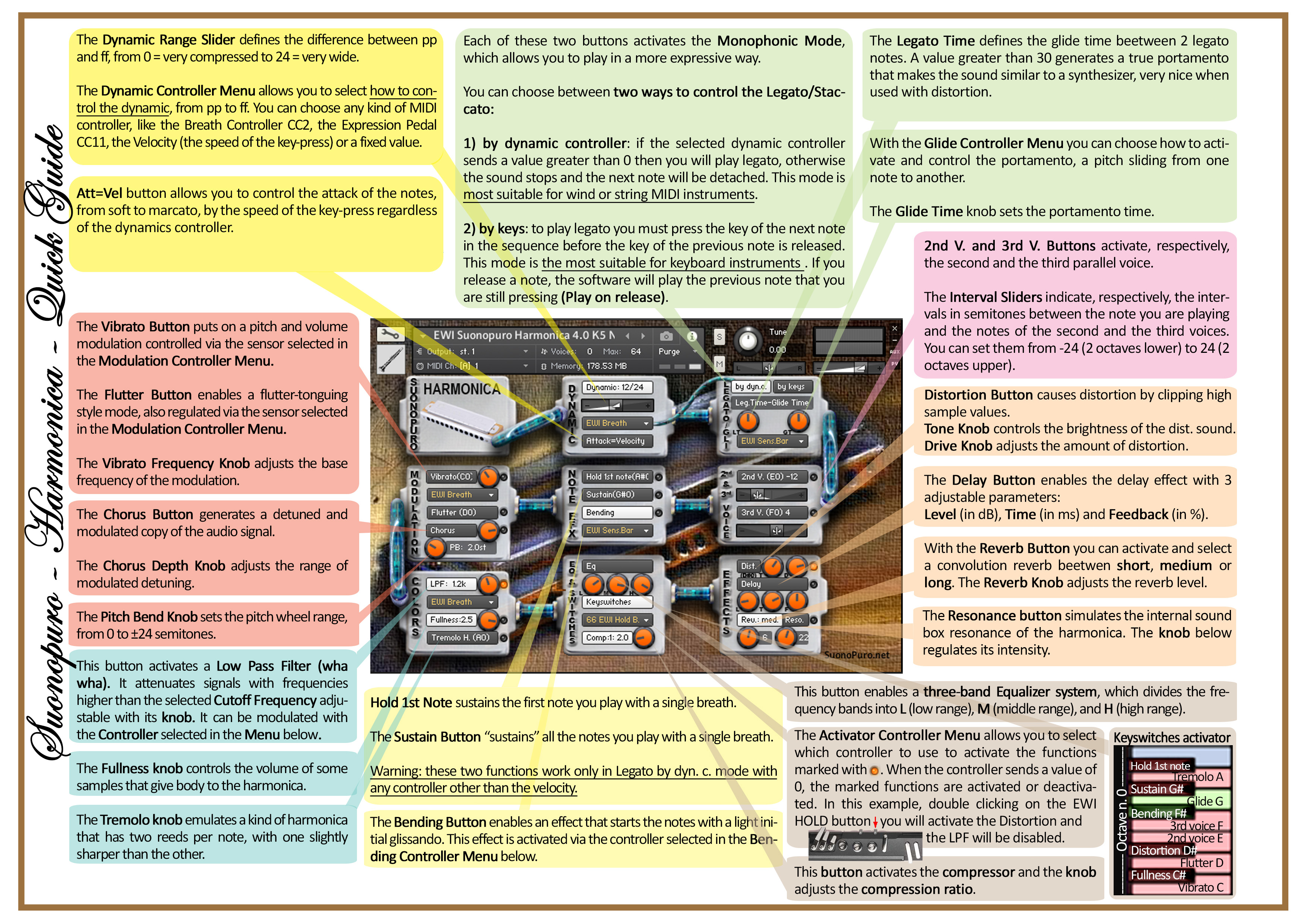 Download the instruction manual