SUONOPURO RECORDER

Virtual recorder for electronic wind instruments or keyboards
(Full version of NI Kontakt 4.1.1 or higher required. The new version 2021 requires Kontakt 5.8.1 or higher.)
Introduction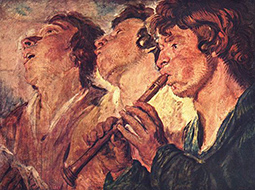 The recorder is a woodwind instrument of the group known as fipple flutes. It was popular in Renaissance period through baroque era, but declined in the 18th century.
Many composers of the baroque era wrote specifically for the recorder, including Bach, Handel, Purcell, Sammartini, Scarlatti, Schütz, Telemann and Vivaldi.
The recorder was revived in the 20th century, partly in the pursuit of historically informed performance of earlymusic, but also because of its suitability as a simple instrument for teachingmusic.
Suonopuro Recorder is an electronic version of this ancient instrument, very realistic and responsive, achieved with the typical care and attention to detail of the high-end handmade instruments.
You can choose to play Suonopuro Recorder in monophonic mode (more realistic) or polyphonic mode.
It can also perform two configurable parallel voices as used by great EWI player Michael Brecker.
It does not require complex configurations or problematic ways of playing: you just play your MIDI instrument and the virtual recorder will do the legato and staccato, crescendo and diminuendo, piano and forte, vibrato, glissando, etc.
It can be used with any MIDI controller but it is specifically designed for two kinds of MIDI controllers: electronic wind instruments (like the Akai EWI or the YamahaWX5) and keyboards.



Features
<![if !supportLists]> · <![endif]>1908 samples at 24bit/48kHz all working together as one.
<![if !supportLists]> · <![endif]> Real time automatic recognizing of legato and staccato.
<![if !supportLists]> · <![endif]> Each legato interval, until the major ninth, was sampled twice.
<![if !supportLists]> · Sung style modality.<![endif]>
<![if !supportLists]> · <![endif]> Innovative and flexible portamento (glide) system, sample based.
<![if !supportLists]> · <![endif]> 3 different ways to vibrate, all ultra-expressive and realistic.
<![if !supportLists]> · <![endif]> Convolution reverb specifically designed for the recorder.
<![if !supportLists]> · <![endif]> 2 round robin staccato attacks with multiple and gradual gradients from soft to marcato.
<![if !supportLists]> · <![endif]> 2 parallel voices at configurable intervals, as used by Michael Brecker.
<![if !supportLists]> · <![endif]> 4 octaves range instead of the 3 of a real recorder.
<![if !supportLists]> · <![endif]> Polyphonic Modality availlable.
New version 2021 for Kontakt 5.8.1
The Suonopuro Recorder has been completely renovated in version 3.0 for Kontakt 5.8.1, adding the following options:
· Stereophonic effect
· Compressor
· Dynamic, vibrato, glissato, bending and activator controllers selectable from menu
· Bending efx
· 2 equalization presets
· Breath noise efx
· Delay
· Resonance
· 3 reverb types
· All notes looped
· Improved slurs, staccato responsiveness and quality of some sounds
System requirments
NI KONTAKT 4.1.1 or higher FULL retail version. The new version 2021 requires Kontakt 5.8.1 or higher. It is NOT compatible with Kontakt Player. You can open and run Suonopuro Recorder in Kontakt player just for 15 minutes. After that the demo period of the player times out and you have to re-start and reload the library.
PC: Windows XP, 7 or 8, Intel Core 2 Duo or AMD Athlon 64 X2, 2 GB RAM, low latency audio driver.
Mac: OS X 10.7 or 10.8 (latest update), Intel Core 2 Duo, 2 GB RAM
300 Megabytes of free hard disk space
MIDI controller
Dynamic controllers for keyboards
In the keybord version you can select how to control the dynamic, from pp to ff. It also affects the timbre and slightly the pitch of notes.

You can choose between:

You may also choose to control the dynamic by Velocity (the speed of the key-press), as a common keyboard patch.
How to obtain "
THE FREESK

+

SUONOPURO RECORDER

"
They are part of one package: BUY ONE, GET ONE FREE.
Take advantage of great promotional

DISCOUNT

of

15

%
The Freesk and Suonopuro Recorder are part of a private collection that I'm going to give to everyone who supports my site www.suonopuro.net with a donation of at least € 75,00 instead of € 89,00 (save 15%).
To use it you need a FULL retail version of NI Kontakt 4.1.1 or higher.
Instructions:
Make a donation of at least

75

,00 euros using Paypal (payment is automatically converted to your desired currency):


Send an E-MAIL with your name, your e-mail and details of the payment made, to:

Within a few days you will receive an e-mail notification, containing the download link and the instructions.
How to use