SUONOPURO
BANSURI
V

irtual Indian Flute for Electronic Wind Instruments or Keyboards
(Full version of NI Kontakt 4.1.1 or higher required)
Introduction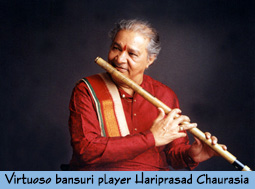 The bansuri is an ancient transverse flute of India made from a single hollow shaft of bamboo. It is mostly used in Indian classical music.

References to the bansuri are found in the texts of the 3000 year old holy scriptures of the Hindus: the Vedas. The bansuri is considered to be divine and is intimately linked to lord Krishna and Radha. It is believed that when lord krishna played his flute, the beautiful sound had a spellbinding and enthralling effect not only on women but also on animals. Krishna is most often depicted with this flute in Buddhist paintings dating back 2000 years.

Suonopuro Bansuri is an electronic version of this ancient flute, working as a sample library for the sampler Kontakt by Native Instruments. It differs from the other sound libraries because it is more realistic and responsive. Indeed, it is designed especially for live performing, made by combining the best coding and recording technologies with the typical care and attention to detail of the high-end handmade instruments.

From version 2.3 Suonopuro Bansuri can be used both in monophonic (more realistic) or polyphonic mode. It can also perform two configurable parallel voices as used by great EWI player Michael Brecker.

It can play in normal mode or in

sung

style, like the great flautist Ian Anderson of British rock band Jethro Tull.

The virtual bansuri does not require complex configurations or problematic ways of playing: you just play your MIDI instrument and the virtual bansuri will do the legato and staccato, crescendo and diminuendo, piano and forte, vibrato, glissando, etc.

It can be used with any MIDI controller but it is specifically designed for two kind of MIDI controllers: electronic wind instruments (like the Akai EWI or the Yamaha WX5) and keyboards.

Raga Shivranjani on Virtual Bansuri.

Thanks to the suggestions of an Indian bansurist, in 2016 Suonopuro Bansuri was

completely renovated

. Now it is so expressive that you can play a real Indian raga with it.

Features
<![if !supportLists]> · <![endif]>2912 samples at 24bit/48kHz all working together as one.
<![if !supportLists]> · <![endif]> Real time automatic recognizing of legato and staccato.
<![if !supportLists]> · <![endif]> Each legato interval, until the major ninth, was sampled twice.
<![if !supportLists]> · Sung style modality.<![endif]>
<![if !supportLists]> · <![endif]> Innovative and flexible portamento (glide) system, sample based.
<![if !supportLists]> · <![endif]> 3 different ways to vibrate, all ultra-expressive and realistic.
<![if !supportLists]> · <![endif]> Convolution reverb specifically designed for the bansuri.
<![if !supportLists]> · <![endif]> 4 round robin staccato attacks with multiple and gradual gradients from soft to marcato.
<![if !supportLists]> · <![endif]> 2 parallel voices at configurable intervals, as used by Michael Brecker.
<![if !supportLists]> · <![endif]> 4 and a half octaves range instead of the 2 and a half of a real bansuri. The range was extended using the
most advanced pitch shifting technologies.
<![if !supportLists]> · <![endif]> Polyphonic Modality (NEW FEATURE 2015)

NEW FEATURES in version 3.0 - 2016
· A
more natural glissando
(adjustable by the Glide Sens. Knob).
·
More consistent bass notes.

· Many samples remastered for a
more robust sound.
· If you play pianissimo (very softly) you can hear the
breath noise
.
· Now you can do the
flutter effect
, just with toungue.
·
3 different reverbs avaible
: normal, new and very very long (called atmosfera).
·
Extended and adjustable dynamic range
.
System requirments
NI KONTAKT 4.1.1 or higher FULL retail version. It is NOT compatible with Kontakt Player. You can open and run Suonopuro Bansuri in Kontakt player just for 15 minutes. After that the demo period of the player times out and you have to re-start and reload the library.
PC: Windows XP, 7 or 8, Intel Core 2 Duo or AMD Athlon 64 X2, 2 GB RAM, low latency audio driver.
Mac: OS X 10.7 or 10.8 (latest update), Intel Core 2 Duo, 2 GB RAM
300 Megabytes of free hard disk space
MIDI controller
Dynamic controllers for keyboards
In the keybord version you can select how to control the dynamic, from pp to ff. It also affects the timbre and slightly the pitch of notes. You can choose between:

You may also choose to control the dynamic by Velocity (the speed of the key-press), as a common keyboard patch.
Suonopuro Bansuri on action

Steve Tavaglione
, multi-styled saxophonist, clarinetist, flautist and E.W.I. player, who has worked on various films and television shows including CSI and CSI:NY, wrote:
"Suonopuro Bansuri is a beautiful soundset"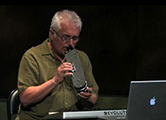 Judd Miller
is arguably THE top EVI (electronic valve instrument) player in the world. He has performed on numerous big budget movie soundtracks and with the world's top recording artists like Michael Breaker, John Williams, Stewart Copeland, James Newton Howard, The Jellow Jackets and many others.
He wrote:
"The Suonopuro Bansuri is so beautiful. Your creations feel so good to play. I just love playing your bansuri and freesk. really, really beautiful sounds."



Judd Miller
's improvised solo from the show "
Off the score
" with
Stewart Copeland
(formerly of The Police)
, Jon Kimura Parker, Yoon Kwon
and
Marlon Martinez.


Siggi Mueller
, German film composer, keyboarder, accordion and piano player, wrote:
"This is the best virtual Bansuri i heard. It can be very lovely played with a breath controller."

Silvio Binello, versatile musician and composer of jazz and contemporary music, wrote: "Gino made and still makes a unique and valuable work for the EWI, understanding the real possibility of this instrument and going beyond. Thanks to his studies in advanced electronics, he is a musician projected into the future but without losing sight of tradition. The sounds that he creates are all beautiful, the Bansuri is really effective and engaging for both those who use it and those who listen it. Rare stuff ... "

Bryan Gall
, composer and player of world flutes, wrote:
"Suonopuro Ancient Flutes sounds are really nice and they play very well through the EWI."


November breeze
, a composition by Bryan Gall played on EWI with Suonopuro Bansuri.

Junaidul Karim
is an Indian bansurist who helped me to improve the virtual bansuri. Here is the beginning of a Kumar Sanu song, played by Junaidul Karim:
This video, by Filippo Grillo, demonstrates the expressive possibilities of "Suonopuro Bansuri".
The song, by Klaus Schønning, is "Fairy footsteps in Greenland", also known as "Chinese Twilight" and "Trail of the Angels".
How to obtain "SUONOPURO BANSURI
+ DIZI E-FLUTE

"
They are part of one package: BUY ONE, GET ONE FREE.
Take advantage of great promotional DISCOUNT OF 20%
Suonopuro Bansuri and Dizi e-flute are a part of a private collection that I'm going to give to everyone who supports my site www.suonopuro.net with a donation of at least € 79,00 instead of € 99,00 (save 20%).
To use them you need a FULL retail version of NI Kontakt 4.1.1 or higher.
Instructions:
Make a donation of at least € 79,00 using Paypal (payment is automatically converted to your desired currency):


Send an E-MAIL with your name, your e-mail and details of the payment made, to:

Within a few days you will receive an e-mail notification, containing the download link and the instructions.
How to use

Download the instruction manual