Dr XIAO & Mr SHAKUHACHI

Virtual Vertical Flutes for Electronic Wind Instruments or Keyboards
(Full version of NI Kontakt 4.1.1 or higher required)
Audio demos
The last rose of summer - Dr XIAO
Introduction
Dr Xiao & Mr Shakuhachi are sample based instruments for the sampler Kontakt by NI, emulating two ancient bamboo flutes from Asia.
The XIAO is a Chinese vertical end-blown flute. It first appeared in the Han dynasty (206 bc–220 ad). The xiao is general made of purple bamboo and has a graceful and mellow sound.
The SHAKUHACHI is a traditional Japanese bamboo flute that was originally derived from the Chinese xiao in the 8th century. The shakuhachi's blowing end is cut obliquely outward, so that subtle varieties of tone colour can be produced. The bell (flared end) consists of the trunk of the bamboo plant with its root ends. The shakuhachi is capable of producing loud, penetrating and breathy tones.
Dr Xiao & Mr Shakuhachi are two very realistic and responsive virtual instruments, achieved with the typical care and attention to detail of the high end hand-made instruments. They can be used as monophonic or polyphonic instruments, and can perform two configurable parallel voices as used by great EWI player Michael Brecker.
They do not require complex configurations or problematic ways of playing. Just play your MIDI instrument as usual and the virtual flutes will do the legato and staccato, crescendo and diminuendo, piano and forte, vibrato, portamento, etc.
They can be used with any MIDI controller but are specifically designed for two kinds of MIDI controllers: electronic wind instruments (like the Akai EWI or the YamahaWX5) and keyboards.


Features
<![if !supportLists]> · Every note, and each legato and portamento interval, until the major ninth, was sampled at 24bit/48kHz. <![endif]>
<![if !supportLists]> · <![endif]><![if !supportLists]>Over 2000 files working together automatically.<![endif]>
<![if !supportLists]> · <![endif]> Real time automatic recognizing of legato and staccato.
<![if !supportLists]> · Flutter tonguing modality. (NEW FEATURE 2016)<![endif]>
<![if !supportLists]> · <![endif]> Innovative and flexible portamento (glide) system, sample based.
<![if !supportLists]> · <![endif]> 3 different ways to vibrate, all ultra-expressive and realistic.
<![if !supportLists]> · <![endif]> Convolution reverb.
<![if !supportLists]> · 4<![endif]> round robin staccato attacks with multiple and gradual gradients from soft to marcato.
<![if !supportLists]> · <![endif]> 2 parallel voices at configurable intervals, as used by Michael Brecker.
<![if !supportLists]> · <![endif]> 3 and a half octaves range instead of the 2 of a real bamboo flute.
<![if !supportLists]> · <![endif]> Polyphonic modality.
<![if !supportLists]> · <![endif]> Editable Dinamic Range. (NEW FEATURE 2016)
Requirments
• NI KONTAKT 4.1.1 or higher FULL retail version. It is NOT compatible with Kontakt Player. You can open and run Dr Xiao & Mr Shakuhachi in Kontakt player just for 15 minutes. After that the demo period of the player times out and you have to re-start and reload the library.
• A COMPUTER: Windows or Mac or a Maschine+ by Native Instruments.
• A MIDI CONTROLLER: an Electronic Wind Instrument or a Keyboard or any kind of MIDI Instrument.
Dynamic controllers for keyboards
In the keybord version you can select how to control the dynamic, from pp to ff. It also affects the timbre and slightly the pitch of notes. You can choose between:

You may also choose to control the dynamic by Velocity (the speed of the key-press), as a common keyboard patch, but you can no longer do crescendos and diminuendos.
Dr Xiao & Mr Shakuhachi on action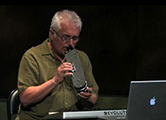 Judd Miller
is arguably THE top EVI (electronic valve instrument) player in the world. He has performed on numerous big budget movie soundtracks and with the world's top recording artists like Michael Breaker, John Williams, Stewart Copeland, James Newton Howard, The Jellow Jackets and many others.
He wrote:
"I like the Xiao and love the shakuhachi! You have a very musical and sensible approach to what is going to feel and sound right on a wind controller."

In this video Ciro Pusateri, internationally renowned saxophonist, plays the Xiao via his Yamaha YDS150, in a composition for choir and orchestra by Valentina Casesa, at the "Teatro Massimo" in Palermo.
How to obtain "Dr Xiao & Mr Shakuhachi" by Suonopuro.
Take advantage of great promotional DISCOUNT of 15%
Dr Xiao & Mr Shakuhachi are part of a private collection that I'm going to give to everyone who supports my site www.suonopuro.net with a donation of at least € 85,00 instead of € 100,00 (save 15%).
To use it you need a FULL retail version of NI Kontakt 4.1.1 or higher.
Instructions:
Make a donation of at least 85,00 euros using Paypal (payment is automatically converted to your desired currency):


Send an E-MAIL with your name, your e-mail and details of the payment made, to:

Within a few days you will receive an e-mail notification, containing the download link and the instructions.
If you want a different method of payment, or are having problems with the Paypal link, you can write an email to the address above.
How to use