SUONOPURO EWI PRESETS


the most famous synth sounds for your Akai EWI 4000s
"Suonopuro EWI Presets" is a collection of patches for the Akai EWI 4000s that reproduce the sound of 24 legendary synthesizer solos drawn from songs that have shaped the history of rock, pop and fusion. They also contain other six patches specifically designed to cover the most common needs of an EWI player.
This is the presets list:
(you can listen an MP3 comparing the original track with the patch)
TITLE
ARTIST
YEAR
SYNTH
NOTES
DEMO MP3
Pop-Corn
Gershon Kingsley
1969
Moog Modular
Presets 07-10.mp3
Lucky Man
Keith Emerson
1970
Moog Modular
Play using glide
Chameleon
Herbie Hancock
1973
ARP Odyssey
Shine on you crazy diamond
Pink Floyd
1975
MiniMoog
Oxygene Part IV
Jean Michel Jarre
1976
EMS VCS 3
Presets 11-14.mp3
A remark you made
Joe Zawinul
1977
Arp2600
Birdland
Joe Zawinul
1977
MiniMoog
Hot stuff
Donna Summer
1979
Play with octaver
Are you going with me?
Pat Metheny
1981
Roland GR 300s
2 Patches
Presets 15-19.mp3
Chariots of fire
Vangelis
1981
Yamaha CS-80
Sweet Dreams
Eurythmics
1982
Juno-6
2 Patches
Rockit
Herbie Hancock
1983
Presets 20-22.mp3
Claire's song
The JellowJackets
1983
Lyricon
Pass it on
The JellowJackets
1983
Lyricon
Jump
Van Halen
1984
Oberheim OB-Xa
Demo mp3 multitrack recorded
Presets 23-26.mp3
The final countdown
Europe
1986
Roland JX-8P
Truth
T-Square
1987
Akai Ewi
Kingston Town
UB40
1990
Yamaha Wx7
Facing West
Lyle Mays/Pat Metheny
1992
Kurzweil K2000
Presets 27-30.mp3
Boheme
Deep Forest
1995
Melody
Lydia Kavina
97-29
Theremin
Play using glide
Paradise
Coldplay
2011
Just the bass
PRESETS 1-6 (generics)
Suonopuro EWI
Super versatile
Presets 01-06.mp3
Suonopuro Dolce
For ballads
Suonopuro Triangle
For arrangements
Suonopuro Wha-Wha
Funky
Suonopuro Archi
Synth Strings
Suonopuro Ottoni
Synth Brass
PRESETS 50-80 are the same as above but without effects, so you can use with your pedalboard or your FX rack.



WHAT'S NEW IN VERSION

1.4

- More leveled volume between

the

patches
- Effects more balanced
- Two new patches from songs by Lucio Battisti: Amarsi un po' and Sì viaggiare
- Three variations of previous patches, less

similar

to the original

ones

but more versatile
- Four sounds specifically designed to be used with an external distortion pedal
Suonopuro EWI Presets on action

Even the great EWI player Bernie Kenerson "Bernzilla" likes and uses the Suonopuro EWI Presets:
https://soundcloud.com/jazzewi/2-by-6-bernzilla-mix
Bernie Kenerson reviews the Suonopuro EWI Presets

Alistair Parnell, composer and sax player, said about Suonopuro EWI Presets: "Very impressive!"
Nick Batzdorf, Editor/publisher of VIRTUAL INSTRUMENTS MAGAZINE: "Great job of programming"

Marian Jaslovsky, Slovak saxophone/flute/EWI player: "I have an EWI for more than 5 years and my 4000s plays an important role in my live performances and studio recordings. Native EWI sounds are a little bit problematic so I bought the famous bank from Patchman. But something was missing there for me. I love funk and fusion and I discovered cool sounds in the Suonopuro EWI Presets by Mr. Gino Chimenti. This bank sounds damn good!"
Marian Jaslovsky plays the EWI with Suonopuro patch n° 12 in a song by the band AMO: Spoločná Reč.

Gaetano Tucci, great saxophonist and EWI player: "An outstanding job, and I like all the sounds. In terms of playability on the ewi, they are all perfect (you can see that have been designed by someone who plays a wind instrument). The ones I like more are those of Metheny, spectacular, it seem to hear him, the number 6 (brass), and of course those two concerning the Yellow Jackets. Even Suonopuro n. 2 Ewi particularly struck me. Definitely a job well done!!!"
Listen a little demo made by Gaetano Tucci with patch n. 16: Song for Bilbao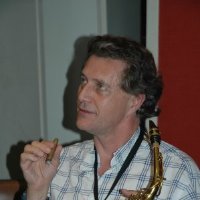 Philippe Gobinet, saxophonist, flutist, EWI player, composer, arranger and jazzist who payed in orchestras and TV shows, recorded some songs with Suonopuro EWI Presets.
Here you can listen a piece called "La Javanaise", a classic French song played using the patch n.2 (Dolce).
In this video Lino De Carolis, saxophonist, flautist and EWI player from Torino, tries some "Suonopuro EWI Presets"
How to obtain "Suonopuro EWI Presets"
Take advantage of great promotional discount of 40%
Suonopuro EWI Presets is a private collection that I'm going to give to everyone who supports my site www.suonopuro.net with a donation of at least € 49,00 instead of € 80,00 (save 40%).
To upload the patches on your Akai EWI 4000s you need to connect the instrument to the computer (PC or MAC) via a midi cable.
Instructions:
Make a donation of at least 49,00 euros using Paypal (payment is automatically converted to your desired currency):


Send an E-MAIL with your name, your e-mail and details of the payment made, to:

Within a few days you will receive an email notification, containing the files and instructions for the upload of the patches to your EWI4000s.
How to use

Download the instruction manual
Other VIRTUAL INSTRUMENTS by SUONOPURO