SUONOPURO DX PIANO

Digital Piano for Kontakt
(Full version of NI Kontakt required)
Below the same piece played with the Vintage version of the Suonopuro DX Piano:


Introduction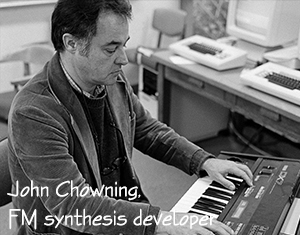 In the late 1980s, a digital piano sound was born that has made hundreds of hit songs. This timbre was so successful that it was included in the General MIDI standard. This is a sound generated by the legendary Yamaha DX7 synthesizer, using FM synthesis developed by John Chowning.
This sound is now reborn in Suonopuro DX Piano.
If once the goal of a musician was to have as many tones as possible at his disposal, now there are so many on the market that you end up wasting a lot of time listening to them one by one in search of the right one.
Today's musicians need a hand-picked selection of high-quality sounds. This is why the Suonopuro DX Piano was developed. It has an immediately recognizable tone, of the highest quality, easily customizable.
Suonopuro DX Piano comes in two different versions: one more faithful to the 80's original and one with a more modern and contemporary sound. Both versions can be easily transformed into pads or monophonic synths, also playable with an EWI, and feature a wide range of effects.
The Suonopuro DX Piano can be played with any kind of MIDI instrument or DAW, including:
• MIDI Keyboards: NI Komplete control, M-Audio Oxygen, etc.;
• Electronic Wind Controllers: Akai EWI, Roland Aerophone, Yamaha YDS, Berglund NuEVI and more;
• MIDI Violins: Cantini MIDI violin, Zeta MIDI violin, etc.;
• MIDI Converters, like the Sonuus i2M;
• MIDI Controllers: TEC breath controller, MIDI expression pedal, Yamaha BC3, etc.
Features
• 2 versions: Vintage (CURRENTLY FREE) and Modern (FOR SALE).
• 1GB of 24-bit/48KHz samples, on 11 levels.
• The note attacks vary according to the touch, with multiple gradients from soft to marcato.
• A Low Pass Filter also applicable only to the attacks of the notes, to transform the piano into a pad.
• An algorithm that prevents notes from bundling too much when using the sustain pedal.
• A complete set of high-quality effects: Chorus, Shine, Three-band equalizer, Compressor, Convolution reverb, Distortion, Delay, Doubling, Vibrato, Flutter, and Resonance.
• Selectable dynamics controller and editable dynamic range.
• Two monophonic synth style modes with real time automatic recognizing of legato and staccato: by dynamic controller and by keys.
• Play on release mode: when you release a note, the software plays the previous note still pressed.
• Configurable legato mode and real time controlled glissando.
• Two parallel voices at configurable intervals, as used by Michael Brecker.
• Sustain and hold 1st note modes for monophonic instruments.
• Bending technique, which consists in starting a note with an ascending glissando.
• Release of notes with a descending glissando (Fall).
• A noise generator.
• Keyswitches that can be disabled and a live options activator to instantly switch from one configuration to another.
• Splitter by Suonopuro, to split and layer many sounds across your keyboard or your MIDI instrument.
Requirements
• A COMPUTER: Windows or Mac, or a Maschine+ by Native Instruments.
• NI KONTAKT 5.8.1 or higher FULL retail version. It is NOT compatible with Kontakt Player. You can open and run the Suonopuro DX Piano in Kontakt player just for 15 minutes. After that the demo period of the player times out and you have to re-start and reload the library.
• A DAW or a MIDI CONTROLLER: a Keyboard, an Electronic Wind Instrument or any kind of MIDI Instrument.
How to get the "Suonopuro DX Piano"
Get the Vintage version for free!
To use it you need a FULL retail version of NI Kontakt 5.8.1 or higher.
To get the free version of Suonopuro DX Piano (only the Vintage), just send an email with your data to the address indicated below, inserting the follow message: I would like to receive the free version of Suonopuro DX Piano. Within 24 hours you will receive an email with the download link.
To get the complete version (Vintage + Modern):
Make a donation of at least 85,00 euros using Paypal (payment is automatically converted to your desired currency):
Send an E-MAIL with your name, your e-mail and details of the payment made, to:

Within 24 hours you will receive an e-mail notification, containing the download link and the instructions.
If you want a different method of payment, or are having problems with the Paypal link, you can write an email to the address above.
How to use