The Synthesizers that shaped modern music,
to get the best from your MIDI instrument.
"Suonopuro Synth Collection" is a set of 64 synth sounds for Kontakt, fully editable and customizable:

• 33 patches that reproduce the sound of several legendary synthesizer solos, drawn from songs that have shaped the history of rock, pop and fusion;

• 31 patches specifically designed to cover the most common needs of any musician.

The Suonopuro Synth Collection is designed to get the best, in terms of expression and control, from any kind of MIDI instrument:

• Electronic Wind Instruments (Akai EWI, Yamaha WX5, Casio Zanzithophone, Roland Ae10g, Morrison Digital Trumpet, etc.);

• MIDI strings (Cantini MIDI violin, Zeta MIDI violin, etc.);

• MIDI converters, like the Sonuus i2M;

• MIDI keyboards (NI Komplete control, M-Audio Oxygen, etc.);

• MIDI controllers (TEC breath controller, MIDI expression pedal, Yamaha BC3, etc.).

Stop wasting time searching through thousands of useless sounds: few sounds but very recognizable and very well sounding.
Useful for having the best EWI 4000s sounds on the EWI 5000.
---FULL VERSION OF NI KONTAKT 4.1.1 OR HIGHER REQUIRED---
Features
• Editable Dynamic Controller and Range.

• 2 monophonic modes with real time automatic recognizing of legato and staccato: by dynamic controller and by keys.

• Play on release mode: when you release a note, the software plays the previous note still pressed.

• Configurable legato time and real time controlled portamento.

• 4 round robin staccato attacks with multiple and gradual gradients from soft to marcato.

• 2 parallel voices at configurable intervals, as used by Michael Brecker.

• Polyphonic mode for polyphonic instruments and sustain or hold 1st note modes for monophonic instruments.

• Bending technique.

• Automatic vibrato and flutter-tonguing both configurable and controllable live.

• Chorus, Three-band equalizer, Convolution reverb, easy to use Distortion and Delay effects.

• Low Pass Filter, configurable and live controllable.

• Keyswitches that can be disabled; live options activator; customizable sound banks to change sound via Program Change.

• Splitter by Suonopuro, to split and layer many sounds across your keyboard or your MIDI instrument.

List of synth solos that inspired us
SONG

TIT

LE

ARTIST

YEAR

SYNTH
Pop-Corn
Gershon Kingsley
1969
Moog Modular
Lucky Man
Keith Emerson
1970
Moog Modular
Chameleon
Herbie Hancock
1973
ARP Odyssey
Shine on you crazy diamond
Pink Floyd
1975
MiniMoog
Oxygene Part IV
Jean Michel Jarre
1976
EMS VCS 3
A remark you made
Joe Zawinul
1977
Arp2600
Birdland
Joe Zawinul
1977
MiniMoog
Amarsi un po'
Lucio Battisti
1977
MiniMoog
Sì, viaggiare
Lucio Battisti
1977
MiniMoog
Hot stuff
Donna Summer
1979
Jazz carnival
Azymuth
1979
Are you going with me?
Pat Metheny
1981
Roland GR 300s
2 Patches
Chariots of fire
Vangelis
1981
Yamaha CS-80
Magnetic Fields Pt. 2
Jean Michel Jarre
1981
Yamaha CS-80
Sweet Dreams
Eurythmics
1982
Juno-6
2 Patches
Rockit
Herbie Hancock
1983
Claire's song
The JellowJackets
1983
Lyricon
Pass it on
The JellowJackets
1983
Lyricon
Jump
Van Halen
1984
Oberheim OB-Xa
Got a match?
Chick Corea
1986
Yamaha KX5/TX816's
The final countdown
Europe
1986
Roland JX-8P
Truth
T-Square
1987
Akai Ewi
Diamante (NEW 2018)
Zucchero
1989
Yamaha DX7+BC3
Pad, Harp, Lead
Kingston Town
UB40
1990
Yamaha Wx7
Facing West
Lyle Mays/Pat Metheny
1992
Kurzweil K2000
Boheme
Deep Forest
1995
Melody for Theremin
Lydia Kavina
97-29
Theremin
New Rochelle
Bob Mintzer
1997
EWI 4000s
Paradise
Coldplay
2011
Modern Presets
Suonopuro EWI
6 lead synth,

including also

chorus e phaser
Suonopuro Sweet
2 patch

es

for ballads

Suonopuro Triangle
2 Patch

es

per gli arrang

ements

Suonopuro Wha-Wha
5 funky and rock instruments, both clean and distorted
Suonopuro Strings
A classic Synth Strings
Suonopuro Trumpets and Brass
3 modern Synth Brass
Suonopuro Distortion and Fuzz
7 synth for solos and riffs
Suonopuro Pad
A super pad with variation
Suonopuro Variation
4 new sounds from classics
Other Files
The Synth Collection folder contains:

• 64 preconfigured files (.nki) for Electronic Wind Instruments or monophonic (whose name starts with WIND);

• 64 preconfigured files for generic keyboards (whose name starts with KEY);

• 4 banks (.nkb) for EWI or monophonic instruments with 15 sounds each recalled by program change;

• 4 banks for Keyboards with 15 sounds each recalled by program change;

• One empty multi file (.nkm) containing the Suonopuro Splitter, to split and layer many sounds across your MIDI instrument.

• An instruction manual in pdf.


Screenshot

Suonopuro Synth Collection on action
In this video, Mark Steiner reviews The Suonopuro Synth Collection. Mark plays NuEVI, trumpet, keyboards, piano and modular synths. He is Nyle Steiner's nephew, the inventor of the EWI.
Itai Weissman, EWI player, jazzman, composer and EWI teacher at the Amsterdam Conservatory, plays Green Dolphin Street with the patch no. 31 of Suonopuro Synth Collection.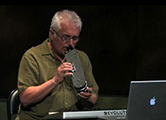 Judd Miller
is arguably THE top EVI (electronic valve instrument) player in the world. He has performed on numerous big budget movie soundtracks and with the world's top recording artists like Michael Breaker, John Williams, Stewart Copeland, James Newton Howard, The Jellow Jackets and many others.
He wrote:
"This new synth package sounds really good. It's a really nice collection of very expressive and useful sounds. Wind synth players, who don't program, will love having your patches."

Steve Tavaglione
, multi-styled saxophonist, clarinetist, flautist and E.W.I. player, who has worked on various films and television shows including CSI and CSI:NY, wrote:
"It sounds great! All Suonopuro Instruments are fantastic!!!"
Lino De Carolis, saxophonist, flautist and EWI player from Torino, tries some sounds from the "Suonopuro Synth Collection"
How to obtain "Suonopuro Synth Collection" (24% OFF)
Suonopuro Synth Collection is a private collection that I'm going to give to everyone who supports my site www.suonopuro.net with a donation of at least €98,80 instead of €130,00 (save 24%).
WARNING: To use it you need a FULL retail version of NI Kontakt 4.1.1 or higher.

Instructions:
Make a donation of at least 98,80 euros using Paypal (payment is automatically converted to your desired currency)


Send an E-MAIL with your name, your e-mail and details of the payment made, to:

Within a few days you will receive an email notification, containing the download link.
How to use