WELCOME
This is an Italian site dedicated to new music technologies.
It contains music courses, videos, tracks, patches and virtual instruments developed over the years thanks to our site supporters.
The Suonopuro Virtual Instruments differ from all the others not only for their timbre quality and their realism, but above all for their playability. They are not just sample libraries, but real musical instruments. In each virtual instrument there is also an attempt to overcome the limits of the original instrument, in terms of range and dynamics.
English pages are marked with the letters EN in the menu.
BENVENUTI
Questo sito si rivolge a chiunque voglia conoscere e sperimentare le potenzialità della tecnologia applicata alla musica.
Grazie al supporto degli estimatori del nostro progetto, nel corso degli anni il sito si è arricchito di patch per sintetizzatori, corsi di musica, video, brani musicali e strumenti musicali virtuali.
I Suonopuro Virtual Instruments non sono semplici librerie di suoni campionati, ma veri e propri strumenti musicali, dal timbro realistico e soprattutto perfettamente suonabili dal vivo.
In ognuno di essi c'è il tentativo di superare i limiti degli strumenti originali, sia in termini di dinamica che di estensione.
NEWS
A star is born: Suonopuro DX Piano.
E' nata una stella: Suonopuro DX Piano.

New audio demo: Lucignolo (by Fiorezo Carpi) recorded with the Suonopuro Harmonica, The Freesk, the Concertina from Super Fisa and the Suonopuro DX Piano (coming soon).


The whole Ancient Flutes Collection has been renewed.
Tutti i flauti della Ancient Flutes Collection sono stati rinnovati.

Suonopuro FlügelHorn updated with 5 wonderful mutes!
VIRTUAL REED INSTRUMENTS
Fisarmoniche, oboi, armoniche e duduk virtuali per EWI, tastiere e strumenti MIDI. NOVITA' 2021: SUPER SHAWM E BAWU-BAWU INCLUSI!
Scopri di più... SCONTO 55%
Accordions, Oboes, Harmonicas and Duduk for MIDI and Electronic Wind Instruments. NEW 2021: SUPER SHAWM and BAWU-BAWU INCLUDED!
Find more . . . SAVE 55%
SYNTHESIZERS COLLECTION
64 sintetizzatori per Kontakt, tutti completamente editabili e personalizzabili:
Scopri di più... SCONTO 24%
64 synthesizers for Kontakt, all fully editable and customizable:
Find more . . . SAVE 24%
FREE SPLITTER FOR KONTAKT
Uno script gratuito per Kontakt che consente di dividere e/o sovrapporre più strumenti lungo la tastiera o lo strumento MIDI che utilizzate.
Link
A free script for Kontakt that allows you to split and layer many sounds across your keyboard or your MIDI instrument.
Link
SUONOPURO EWI PRESETS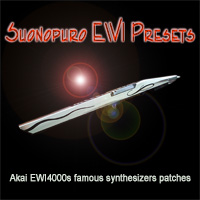 Con questa incredibile collezione di preset potrete avere i suoni degli assoli di synth più famosi del mondo direttamente sul vostro Akai EWI 4000s.
Dettagli ITA SCONTO 40%
This is a collection of patches for the Akai EWI 4000s that reproduce the sound of 24 legendary synthesizer solos drawn from songs that have shaped the history of rock, pop and fusion.
Details EN SAVE 40%
LAVORI DIDATTICI (EDUCATIONAL)
APP
La Sintesi Sonora

Applicazione per Windows e Mac che spiega, in modo interattivo, la storia dei sintetizzatori, le varie tipologie di sintesi sonora e molto altro.
APP Storia
della musica elettronica

Applicazione per Windows e Mac che racconta, in modo interattivo, la nascita della musica elettronica.
Analisi di
Orient Occident di Xenakis


Un classico della musica elettronica, di Iannis Xenakis, analizzato con una partitura d'ascolto animata.
Tecnologie per la didattica della musica

Una ricerca sulle possibilità offerte dall'informatica nel campo della didattica musicale.
Impara la musica con
Fluto e Melò


Corso di musica per bambini, per imparare a suonare il flauto dolce e la melodica, divertendosi. Versione in italiano.
Learn Music
with
Fluto & Melò


Music course for children. Learn to play the recorder and melodica while having fun. English version.
REVIEWS

Judd Miller, top EVI player who has performed on numerous big budget movie soundtracks (list), with artists like John Williams:
I love playing Gino's creations. Especially his Bansuri and Duduk. All of his instruments are very playable and expressive. They would sound great with any wind synthesizer or configured for keyboard also.